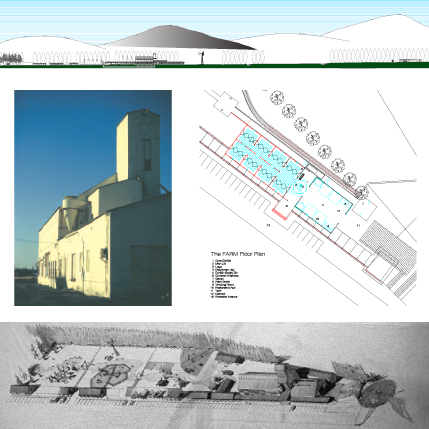 The FARM | Morrow County Histroy Center - Oregon
They want the FARM to tell their story. The farmers and ranchers of Morrow County are heirs to the settlers of the early nineteenth century. Land first acquired through the Land Donation Acts has been passed on from generation to generation, and their relationship to the landscape is deep and complex. Increasingly, that relationship is dominated by machines: tillers, harvesters, and mechanisms of storage and transportation. Agri-business, irrigation and digital technology now dominate the farmers story.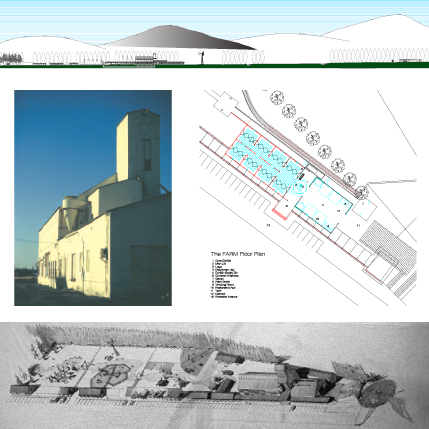 Despite its building-like exterior, the grain elevator that houses the FARM is in fact a giant machine, whose complex operations are now made visible. Attached steel sectional fences, prefabricated sheds, irrigation pivots, etc. support onsite farming and ranching activities, and display the county's collection of historic farm machinery.
The Morrow County History Center masterplan explored the further development of a museum and historical society dedicated to recording the continuously evolving self-portrait of Morrow County and the Agriculture of the Columbia Plateau. The project investigates the use of a grain elevator as a facility to host a series of yearly community events and visiting fellowships that study and express the agricultural landscape that settlers, farmers and ranchers have created on the land.
The project was executed with a series of investigatory workshops culminating in a two-week on-site residency. The architectural team occupied a vacant store-front in the small rural town of Heppner, Oregon; an arrangement devised to facilitate an inclusive and transparent process. Iterative design concepts were developed and exhibited, the public was encouraged to participate and provide feedback.
Services provided include institutional strategic planning, masterplanning, and architectural and site plan concept and schematic design. In addition to traditional planning and architectural documentation, The project deliverables included the creation of a publication intended to capture and communicate the community values about the land, the people, their history, and their future.
Featured artwork by Brooks Herd.